My Blog
Posts for: April, 2015
By Ashley Harrison, DDS
April 24, 2015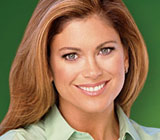 You may have seen Kathy Ireland on the cover of Sports Illustrated, but did you know that she is now a business mogul?
Through it all, Ireland has kept her model good looks, and that includes a bright, glowing smile. In a recent interview with Dear Doctor magazine she said that keeping her smile has required ongoing maintenance and more.
It seems that Ireland is a bit of a daredevil. She described a moment of fun with her children when she tried to stand in their wagon and "wagon surf" across her driveway. It ended badly when she crashed into her parked car and suffered a broken nose, split forehead and several broken teeth. "I learned that my love of adventure exceeds my coordination," she commented.
Ireland was born in Glendale, California in 1963. She demonstrated her drive to succeed early in life, starting at age 4 when she and her sister sold painted rocks from their wagon. Later she had a paper route. She began modeling at 17, with the goal of earning enough to pay for college or to start a business. In her successful modeling career she graced the covers of Glamour, Cosmopolitan, Harper's Bazaar and Sports Illustrated. Her first cover for Sports Illustrated, the publication's 25th Anniversary Swimsuit Edition, was the magazine's best-selling swimsuit issue to date.
In 1993 she founded her marketing and design firm, kathy ireland Worldwide. Now a billion-dollar industry, the firm sells fashions such as wedding gowns and bridesmaid dresses, as well as a wide range of items for home and family.
She has also written a number of books teaching others how to be successful — based on her own experience — as well as three children's books.
Discussing her oral health, Ireland says that she required serious professional assistance on more than one occasion. When she was a child she knocked out a tooth and later knocked it loose again. As an adolescent she wore braces for about three years. After the driveway incident she needed numerous veneers and dental implants to replace a lost tooth and restore her smile.
Her maintenance routine includes regular flossing and brushing, and she has her teeth cleaned every six months. She keeps up on her reading about the latest in research on dental health, and encourages her three children to floss and brush their teeth, to limit eating sweets and to do what they can to avoid injuries to their mouths and teeth.
Contact us today to schedule an appointment to discuss your questions about how to maintain your own smile. You can also learn more by reading the Dear Doctor magazine article "Kathy Ireland."
By Ashley Harrison, DDS
April 09, 2015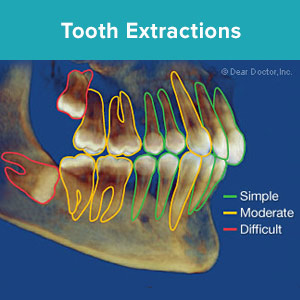 When a tooth is beyond repair due to disease or injury, it may be necessary to remove it. A "simple" tooth extraction is among the most common in dentistry and certainly not the agonizing procedure depicted in common lore.
They're referred to as simple extractions because the shape of the tooth and root allows for a fairly straightforward and uncomplicated removal. An example would be the normally cone-shaped upper front tooth that doesn't offer a lot of resistance during the extraction process.
The process itself is fairly straightforward. Teeth are held in place by the periodontal ligament, an elastic tissue made of tiny fibers that attaches the tooth to the supporting bone. These fibers can be dislodged from the tooth with some careful manipulation — in the hands of an experienced dentist there's a deft "feel" to the fibers loosening. Once they've detached, it requires little effort to remove the tooth; with the aid of local anesthesia, you won't feel anything but a little pressure.
Immediately after the tooth is removed, we commonly insert bone grafting material in the socket to minimize bone loss until a permanent replacement like a dental implant can be installed after tissue healing. We then place sterile gauze over the site for a few minutes to control bleeding and, depending on the size of the wound opening, we may also place a few stitches to close it. We then give you instructions for caring and cleaning the site over the next few days, and prescribe antibiotics to reduce the chance of infection and anti-inflammatory drugs for any discomfort.
Although a simple extraction is a routine procedure, it's important to perform a proper assessment of the tooth and the surrounding bone beforehand, including x-rays to determine the tooth's exact shape and position. If we discover a complication that makes a simple extraction impractical (like multiple roots at acute angles), we may then refer you to an oral surgeon for a more complicated surgical extraction.
It's our hope you'll have your natural teeth for as long as you live. But if you must have one removed, you can rest assured it's a common — and uneventful — experience.
If you would like more information on tooth extraction, please contact us or schedule an appointment for a consultation. You can also learn more about this topic by reading the Dear Doctor magazine article "Simple Tooth Extraction."