My Blog
Posts for tag: Veneers
By Ashley Harrison, DDS
October 05, 2015
Find out how this cosmetic approach to making over your smile might be better suited for your needs.
Who doesn't want to have the perfect smile? Even if you aren't born with it, you can still achieve it. Find out more about "esthetic zone"
veneers and how your Chico dentist Dr. Ashley Harrison can give you the smile you want with this popular dental treatment.
About Dental Veneers
Porcelain veneers are a great way to improve the look and shape of your smile while requiring only minimal tooth reduction. If you are looking to fix any of these dental issues then dental veneers may be the answer you've been looking for:
Stains or discolorations
Chips or cracks
Oddly shaped or crooked teeth
Spaces between teeth or minor overcrowding
Dental veneers can help to elongate smiles, straighten them or make them appear whiter. Veneers are thin shells that are adhered to the front surface of your teeth to mask these common dental issues. Of course, you can get dental veneers on all your teeth but some patients opt for only getting veneers in the esthetic zone.
What is the Esthetic Zone?
Simply put, these are the teeth that are visible when you smile. Some people opt to only get dental veneers on the teeth that others can see so they can still have a more attractive smile but without the same expense as getting a full set of veneers.
Furthermore, for those who choose prefabricated composite veneers, they can easily improve esthetic zone teeth with minimal tooth preparation. Other benefits including fewer office visits and often no lab fees. For those looking to stay on budget but who also want to boost the look of their smile, esthetic zone veneers are often the best approach.
Want to find out if getting esthetic zone veneers is the right cosmetic dentistry for your dental needs? Then schedule a consultation with your Chico, CA dentist today.
By Ashley Harrison, DDS
March 10, 2015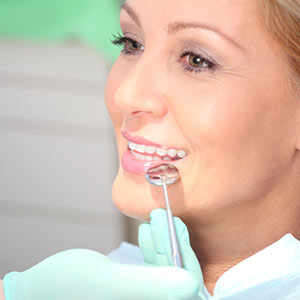 With its life-like color and texture, dental porcelain can restore a smile marred by decayed or damaged teeth. This durable ceramic material not only matches the varieties of individual tooth colors and hues, its translucence mimics the appearance of natural teeth. But perhaps its greatest benefit is its adaptability for use in a number of different applications, particularly veneers and crowns.
Veneers are thin layers of dental porcelain laminated together and permanently bonded to cover the visible outer side of a tooth to improve its appearance. Crowns, on the other hand, are "caps" of dental porcelain designed to completely cover a defective tooth.
Veneers and crowns share a number of similarities. Both can alter the color and shape of teeth, although crowns are used when more extensive tooth structure has been damaged. They're also "irreversible," meaning the tooth must be altered in such a way that it will always require a veneer or crown, though on some occasions a veneer can require no removal of tooth structure and can be reversible.
They do, however, have some differences as to the type of situation they address. Veneers are generally used where the affected teeth have a poor appearance (chipped, malformed or stained, for example) but are still structurally healthy. And although they do generally require some removal of tooth enamel to accommodate them (to minimize a "bulky" appearance), the reduction is much less than for a crown.
Crowns, on the other hand, restore teeth that have lost significant structure from disease, injury, stress-related grinding habits or the wearing effects of aging. Since they must contain enough mass to stand up to the normal biting forces a tooth must endure, a significant amount of the original tooth structure must be removed to accommodate them.
Which application we use will depend upon a thorough examination of your teeth. Once we've determined their condition and what you need, we can then recommend the best application for your situation. But regardless of whether we install a veneer or crown, using dental porcelain can help achieve an end result that's truly life-changing — a new, younger-looking smile.
If you would like more information on dental porcelain restorations, please contact us or schedule an appointment for a consultation. You can also learn more about this topic by reading the Dear Doctor magazine article "Porcelain Crowns & Veneers."
By Ashley Harrison, DDS
December 22, 2014
Your Chico, CA dentist could give you that red carpet smile with porcelain veneers.
Are you tired of looking in the mirror and seeing a chipped or crooked smile? Do you have a major job interview coming up that you're
hoping to make a good impression for? A healthy smile can certainly go a long way to improving your appearance and confidence, making job interviews and other social gatherings easier and more relaxed. If you are looking to improve your smile and regain self-confidence, your Chico, CA dentist has the answer.
About Dental Veneers
Dental veneers are simply thin shells made of porcelain that go over the front of your teeth to hide minor flaws and other imperfections. Dental veneers can be used to cover severe discolorations, chips and cracks, as well as misshapen, crooked and overlapping teeth. Dental veneers can also hide small gaps between teeth. This minimally invasive procedure can give you both a whiter and straighter smile without orthodontic treatments or multiple procedures.
Dental Veneer Preparation
Minimal tooth preparation is needed prior to dental veneer application; however, in order to make room for your veneers, we will first shave down a small amount of your tooth's enamel. By removing some of the enamel we can prepare for the added volume of the veneers once they are applied. Since the process is only minimally invasive, it does not require anesthesia.
Also, keep in mind that even though we are only removing a small amount of enamel, this procedure is not considered reversible.
Dental Veneer Treatment
We will also choose the proper shade for your veneers that will offer both a natural and vibrant smile. Once the proper amount of enamel has been removed, we will temporarily place the veneers on your teeth to make sure you are satisfied with the look and feel of them. Once you have approved the veneers, we will apply a special resin between the tooth and the veneer and then use a laser beam to harden the resin and permanently adhere the veneers to the front of your teeth.
After the procedure is complete, we will provide you with some at-home care instructions; however, one of the biggest advantages of dental veneers is that you don't have to change your oral care routine. You can treat your veneers just as you would natural teeth, so you can still brush and floss as you normally would.
To find out whether dental veneers could help you regain the smile you want, schedule a consultation with your Chico cosmetic dentist today. We would be happy to see if your smile is right for dental veneers.